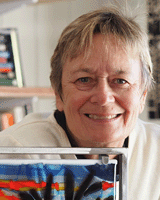 Eibnerstudio, Fused Glass Studio, produces commission glass works for the home, office and commercial spaces. Varying in size, complexity and colors, all fused glass projects are designed specifically for each location.
Fantasy Landscape Series - 2015
The landscape pours are created from the random blending of glass colours.
Due to intense heat the glass turns into fluid taffy, which pours onto the previously designed panel altering the artist's concept.